Hey everyone, Today I am gonna tell you some stuff about me. Here are some of my favourites. My favourites are:
Gymnastics because it's so much fun and I get to do flips, bar and beam. Swimming because it's really fun to go in the water play around and swim of course. Cupcakes, cupcakes are so delicious and yummy and they are just so good. Candy I just love candy because it's so good yummy and sweet who does not like candy. My friends because they are so sweet and kind and they are just the best. Arts and crafts I love to do arts and crafts when i am bored and I have nothing to do like on a rainy day  it's arts and crafts day instead. Music because I like to listen to some jams. Ice Skating because it's really fun going ice skating I even went in grade 3 and grade 4. Books I love to read the series Dork Diaries it is so funny and I also like to read Geronimo Stilton and Thea Stilton books.Those are some of my favourites.
Now am gonna tell you places that I wanna visit. Some places that I wanna visit are:
The Eiffel Tower because it's so beautiful and I never saw it in my life. CN Tower because I  really wanna go inside and check it out and sometimes people get to climb around the CN Tower and i really wanna climb it. I also wanna visit Great Wolf Lodge because I have never ever been there and it sounds like a pretty fun place to visit. New York because some of my cousins live in New York and I wanna visit them and also I just wanna see the busy town. I wanna visit Italy because my cousins live their and it's really hot over there and there are a lot of water parks and I love to go in water. Those are some of the places that I wanna visit.
My Future:
I really want a good future. I want a good school I want a wonderful house for me and my family. Now am gonna tell you 5 things I wanna be when I grow up. When I grow up I wanna be a….
– Doctor- I want to make people better and not sick
– Dentist- I want to clean people's teeth to make there teeth clean, shiny and healthy
– Actress- I wanna make movies and be FAMOUS
–  Photographer- I wanna take pictures of animals in the forest and some people
– Model- I would get to wear new outfits and walk down the runway!
Those are the 5 things I wanna be when I grow up.
All About Moi!
My name is Jannat. I am a fifth grader. some of my hobbies are reading, gymnastics,dancing, swimming and many more things. My favourite colour is turquoise. My favourite animal is a panda because they are so cute and friendly. I love to go on the computer or any other device to do my homework. And that is a little bit about me!
Picture:
Eiffel Tower: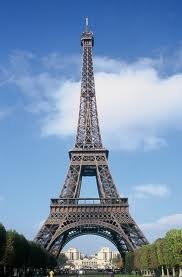 The Eiffel Tower can be found in France, Paris